Quite a few years ago, in the days before Variant Edition opened, my pal James and I ran a little website called Comics! The Blog. In it's heyday, it ran at least two articles a day, every weekday, and managed to get a small, if not surprising amount of creators popping in to offer a bit of thanks for talking about their work.
The whole thing was quite the undertaking, one filled with optimism, as the site's only two rules were simple: talk about things that you love, and be sure to be offer constructive criticism when addressing problems. Since then, I know I've definitely fallen away from talking about the things that I love (at least online), so part of this refocus of Submet is going to be about putting forward more joy into the world.
With that in mind…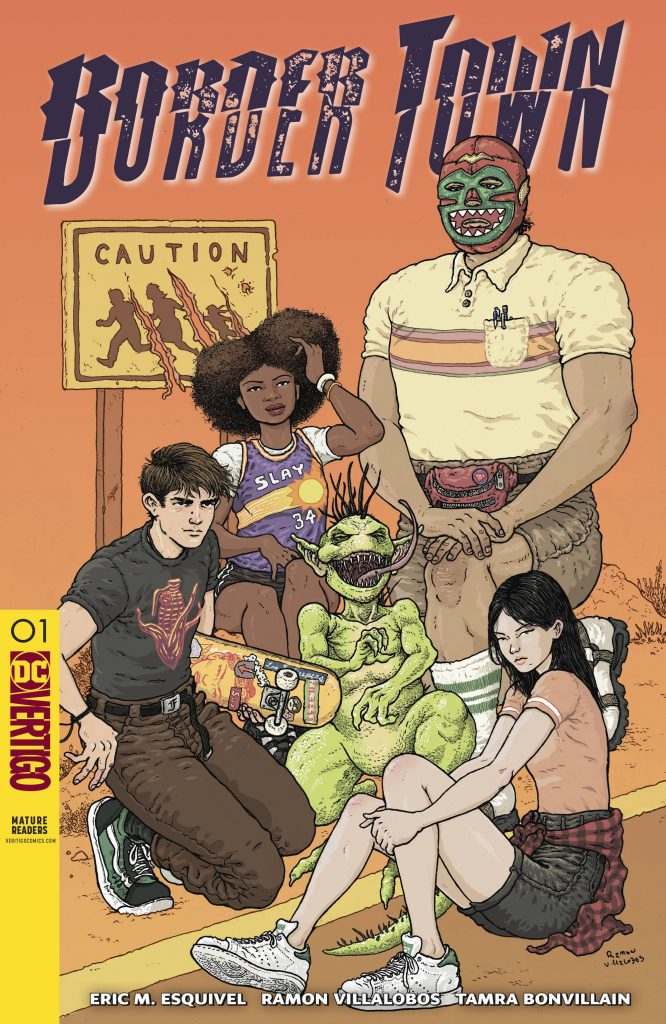 Border Town #1 (DC/Vertigo Comics)
by Eric M. Esquivel, Ramon Villalobos, Tamra Bonvillain, Deron Bennett, Andy Khouri & Maggie Howell
01. The story opens on the border, following a group of good ol' boys with guns and dog whistle paraphernalia, firing shots in the air, claiming it is time to make America great again. It's a boot against the neck of subtly, offering the reader no apologies, explaining in short order what is to come.
Things turn ugly, because of course they're going to. The hooks get set. The story properly begins.
02. This book concerns the happenings in a small town called Devil's Fork, Arizona. You get a bit where a family moves to town, and the story kicks into high gear with heaps of magical realism by way of a punch to the face. The book is quick and brutal in it's messaging, a baseball bat studded with nails, swinging directly at your face. There is no questioning what the creators are attempting to tell you. They are saying it. They are screaming it. 
They've been screaming for years. You're finally hearing them.
03. I won't be able to talk about a lot of this book with any authority – instead all I can try and do is communicate how terribly vital I feel books like this are. Books with something to say, with ideas that need to not only be spoken, but heard. For many, this book is going to be a bit too loud, a bit too blunt or a bit too… much. And I get that. There's a certain style at play here that will not work for those looking for a bit of quiet. But for those who are looking to burn the old world down, and build a new one with fresh voices… this is exactly what you want – and when it ends, you'll want more.
---
But don't just take my word for it…
Take the read of this review of Border Town by Chris C. Hernandez over at Comicosity.
A bit of an excerpt: "Latinx comic book readers are constantly in search of their own stories and Esquivel has done a great job of portraying the experience of being Latinx in the US. It's more than just names or vocabulary, it's the everyday life that confronts Latinx's that's portrayed in the pages of this story. Of course, there are the fantastical parts of the story but even that is a solid lock on who Latinx are. Maybe it's the combination of religion, mysticism, and folk tales but there is a latent supernatural element woven into our lives. Esquivel grabs ahold of it and gives it a defibrillating shock out of his head and onto the page."
---
Brandon Schatz // Twitter // Facebook
Submetropolitan is powered by Variant Edition Comics + Culture – Edmonton's best source for comics, used books + mindful pop culture.
Variant Edition // Website // Twitter // Facebook // Instagram
---
More posts about comics…
(Visited 9 times, 1 visits today)