Here's a little something fun for Friday: an honest-to-god conversation I had with a couple while I was working the Magic: the Gathering counter at my old job in 2013.
I wish I could say I made this up.
I did not.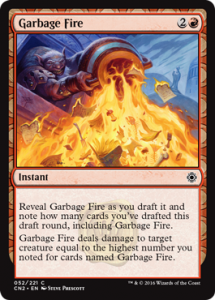 WOMAN: Okay. I'm going to give you a choice. I want you to think about this very carefully.
MAN (IGNORING, LOOKING AT NEW MAGIC CARDS): Uh-huh sure.
WOMAN: You can have sex with me tonight if you pay for your own Magic cards this time.
MAN (PAUSING BRIEFLY BEFORE): I'm sorry, what?
WOMAN: You always make me pay for your Magic cards, and I don't feel like having sex tonight, so I'm making you a deal.
MAN: I don't always make you pay for my Magic cards.
WOMAN: Everytime you bring me into a store like this you do.
MAN (SOMEWHAT ANGRY): Sometimes I come to Magic shops by myself, did you ever think of that?
WOMAN: That's… that's not the point. That's not even close to what I'm talking about. I don't want-
MAN: You would really blackmail me like that?
WOMAN: It's not blackmail, it's-
MAN: You're making me choose between having sex or Magic cards?
WOMAN: No, you can have sex and Magic cards, if you pay for the Magic cards.
MAN: That's not fair. You didn't tell me that before we got here.
WOMAN: I don't have to tell you these things at all. I didn't want to have sex tonight, and I'm giving you a chance anyway. You should be happy about this. Unless you only brought me here to pay for Magic cards and didn't tell me.
~~  //  ~~  THE LONGEST, MOST AWKWARD PAUSE TO EVER HAPPEN EVER  ~~  //  ~~
MAN (DEFEATED): I don't have any money on me.
CUT TO:
WOMAN (AT TILL, PAYING, MUTTERING TO CASHIER): I really didn't want to have sex tonight.
——
Brandon Schatz // Twitter // Facebook
Submetropolitan is powered by Variant Edition Comics + Culture – Edmonton's best source for comics, used books + mindful pop culture.
Variant Edition // Website // Twitter // Facebook // Instagram
(Visited 11 times, 1 visits today)