For those who don't know (partly because I am particularly terrible at self promotion), I do an irregular column over at a site call The Beat about comic book retail. As you can probably guess, it is usually filled to the brim with finger-wagging at backwards looking comic shops and fans who would drag this industry backwards rather than forwards.
Whelp, I finally wrote a new column – this time about a lot of the big moves that DC Comics has been making lately – and it went over as well as you'd expect.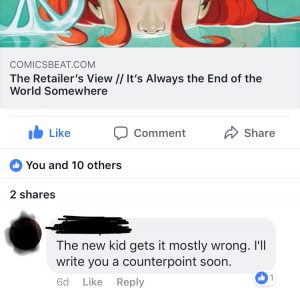 I'm not 100% sure, but this person was probably mad about lines like this:
There's a toxic idea that the direct market is owed something for it's place in history and… I don't know. Maybe there is. Maybe I'm too new that I can't see it. I didn't work in those trenches. But from where I stand, the direct market is owed nothing. As a retailer, I would laugh in the face of Marvel if they told me I owed it to the X-Men to place more orders for their books because they once helped float comic shops. All ideas have their time. All delivery methods do as well.
It's as though the business is constantly evolving or something. Wild!
Anyway. Instead of just cross-posting these and walking away, I'll be tossing a few "extras" your way in these posts, in the form of ideas that were either cut for space, or didn't quite fit the narrative I was going for. Which is to say, for every article I write, there's anywhere from 500-5000 extra words I wrote and discarded, depending on the day.
Writing is fun, and I am tired. Let's get to it.
Comics have the power to change your life: I wanted to hit this idea a lot harder. As a medium and a force for change, comics can do so much. In terms of this article, it crystallized how I looked at the outside world, and at comic book retail. Comics made me who I am today.
It's always the end of the world: If you take a look at the history of the comics industry, you'll find doom around every corner. Portents of the medium's demise occur frequently, but they're usually stymied by a shift in how comics get into the hands of readers. When I say "the direct market is doomed", I don't mean that the comics industry is doomed – I just mean the current system has been dying for a long time, and delivery system needs to change. Retailers equating the death of the direct market to the death of the industry as a whole seem to forget that they are not the industry, they are a delivery method. 
It's about respect – or so I've been told: I can not count the amount of times I've been told that I do not respect where this industry has been, because I want to build for it's future. Asking for change doesn't mean I'm discounting the importance of structures that once saved an industry – it just means I want you all to be around for the next phase, and digging your heels into the past is just going to leave you there.
Out for blood: What is really gross about the retailer reaction is the fact that if Catwoman had been murdered in the final pages, nobody would be complaining about a lack of a wedding. As it happens, Batman #50 ends with Selina making a conscious choice on her own volition. She is in charge of her destiny, and has agency. Let's not pretend this outrage is about the story – it is about that cheap event money that retailers would have be just as fine earning with blood.
SaveSave