++ THE RETAILER'S VIEW
Here's a thing I absolutely forgot to tell everyone: my latest retailer column for Comics Beat is up, and features a guest co-author – my lovely wife, Danica LeBlanc.
The article itself is slightly modified from a talk that we gave at an event quite a few week's back. We called it Deconstructing the Clubhouse, and talked about how exclusionary walls were built around the comic book industry and how important it is to be mindful towards breaking those walls down. I'm really proud of what we put together, and I hope that you enjoy it to.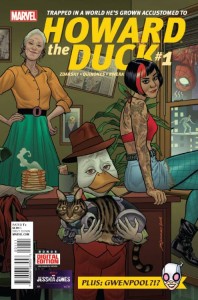 ++ COMICS RECOMMENDATION
HOWARD THE DUCK #1 // Out on Wednesday. We live in a world where there isn't just a Howard the Duck ongoing book, but it is one of the funniest, most heartfelt books on the stands. While this issue picks up on the some of the threads and relationships formed in the previous volume of the title, the story functions beautifully on its own, taking you on a fun adventure while it builds in bits of mystery and tension. Then, there's the Gwenpool back up story that… that really defies explanation. Just accept that the character exists (for reasons?) and strap in, because it's a fun ride.
++ AFTERMATH
Yesterday I talked a bit about a some recent problems within comics journalism. Well, Heidi MacDonald has a great wrap up of the weekend's events that goes a long way towards saying what really needs to be said.
++ STAY TUNED
Tomorrow is new comic book day, so I'm spending the night getting Yegs & Bacon ready, as well as reading some more number ones before the doors open at Variant Edition tomorrow. I can't stress how important it is for a retailer to have a solid grasp on the stock that they carry. It's infinitely more easy to connect products to people when you know the flavour of the contents.
Until next time…
(Visited 3 times, 1 visits today)