An almost-weekly look at incoming comics. Our eyes are tired, but our intent is pure.
This week is a quick one as many deadlines loom and bookcases demand construction. Also, sleep at some point. Sleep would be nice.
01. CHAMPIONS #5 (Marvel Comics)
By Mark Waid, Humberto Ramos, Victor Olazaba, Edgar Delgado and VC's Clayton Cowles w/ Alanna Smith & Tom Brevoort
We'll definitely be talking about this one later in the week.
The issue opens with a mosque on fire. The town's sheriff seems quite content on letting the fire spend a little time eating away before he allows anyone to go near it. For "safety" reasons.
In the pages of Champions, the creative team seems to be alternating issues of modern social relevance with ones where the group goes on a camping trip, or attempts to survive a very superhero situation, stranded in their flying transport in the middle of the ocean. It puts issues like this in start contrast and… I don't think that's a bad thing.
Seeing a superhero team attempt to tackle real world issues can be jarring. Having the book itself address the cognitive dissonance feels like a solid way to go about this, contrasting the relative simplicity of punching evil in the face with problems that can't be punched away.
I won't lie: this issue will be hard to read, especially given what is currently taking place in the world. That said, I really do think this title is going to denote a moment in time, both in our world, and in the way Marvel approached storytelling during this time.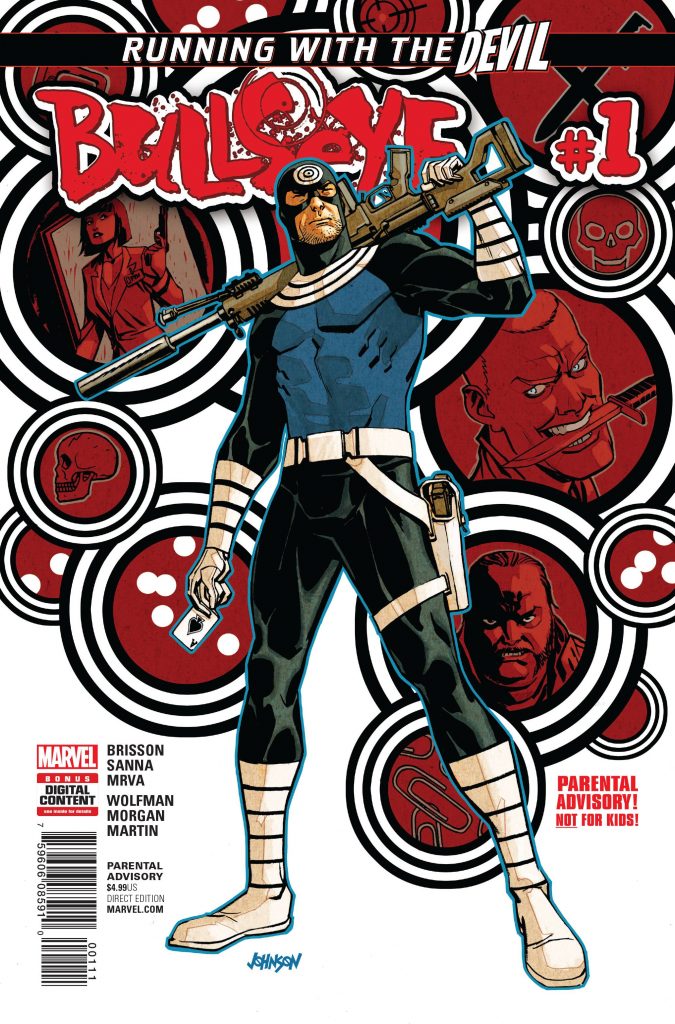 02. BULLSEYE #1 (Marvel Comics)
By Ed Brisson, Guillermo Sanna and Miroslav Mrva (main story) w/ Marv Wolfman, Alec Morgan and Frank Martin (back up). Also featuring, VC's Clayton Cowles w/ Chris Robinson, Mark Basso and Mark Paniccia
On the other end of the spectrum, there is this title, mired as it is in darkness and gritty super heroics. The contents read exactly as it does on the box: Bullseye is a dick, and he's hired to kill people. The creative team does a lot of interesting things with this premise, casting Bullseye more as a force of nature than a person with any kind of reason – kind of like the anti-Punisher in a lot of ways – and so a lot of the tension and plot comes from those movable objects around him. A very interesting read that I'm looking forward to exploring more of.
There's a whole lot more to read this week (even if it is a bit of a lighter week). For a complete list, you can check out our shop's weekly Incoming post where we list everything that we're getting.
Brandon Schatz // Twitter // Facebook 
Submetropolitan is powered by Variant Edition Comics + Culture – Edmonton's best source for comics, used books + mindful pop culture.
Variant Edition // Website // Twitter // Facebook // Instagram
(Visited 11 times, 1 visits today)