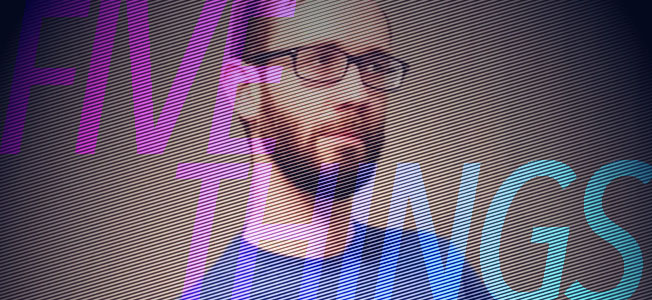 Five Things is an occasional check in on what's been and what might be. I refuse to set a regularity for it, because life is some bullshit, you know?
01. So I learned something about myself last year: I find it a whole hell of a lot easier to write when I am angry or feeling depressed.
You can actually track my production level on Submetropolitan as shit hits the fan in my personal life, or when the comic book industry (and by extension, my professional life) blows itself up. That's… something I want to get away from this year. So I've done two things. First? I've promised myself to try and make things when I don't feel like trash. And two? I built myself a schedule. One that's ambitious, but contains several breaks to maintain sanity. We'll… see how that all goes.
02. Folks who have been popping into Variant Edition lately have probably noticed a bit of a change – mainly that Danica is around a lot more often, and I seem to be out and about a whole lot more. For the past two years, Danica has really been holding things down for us financially, and… well, things have shifted. First, the store is doing really well. I mean, it's always done well under the circumstances, but when you don't have to pay a lawyer to figure out how to get yourself properly split from a garbage old business partner, and your roof stops flooding, things tend to run a bit smoother.
Anyway, Danica has drastically scaled back her out-of-shop work, and I've picked up some of the slack by helping out the liquor shop that's just down the road from our store. It's been nice to have a job where all I have to do is a set amount of tasks, and then walk away when the clock hits a certain time. Almost relaxing in a way.
03. Tomorrow is the long-awaited return of Doctor Whooch where we tell you all of our opinions about the last episode of the Stephen Moffat era. It gets a little spicy. After that? We have plans to revisit another show in the Doctor Who universe that was practically made for a drunk podcast to talk about, as we wait for Jodie Whittaker to pop in again.
04. Some upcoming content to keep an eye out for:
Several articles about DC's brilliant Young Animal line.
A 2017 year in review in comics retail for Comics Beat.
Some reconstituted pieces from the past, including some Drunk Comic Recaps that will start appearing as a part of Thirsty Thursdays when there isn't a Doctor Whooch to post.
Cat pictures.
Terrible motivational words.
Definitely some words about Tom King and his amazing work in comics and prose.
More? Sure. Whatever.
05. I am tired. I shall die now.
(Visited 11 times, 1 visits today)